Upcoming Events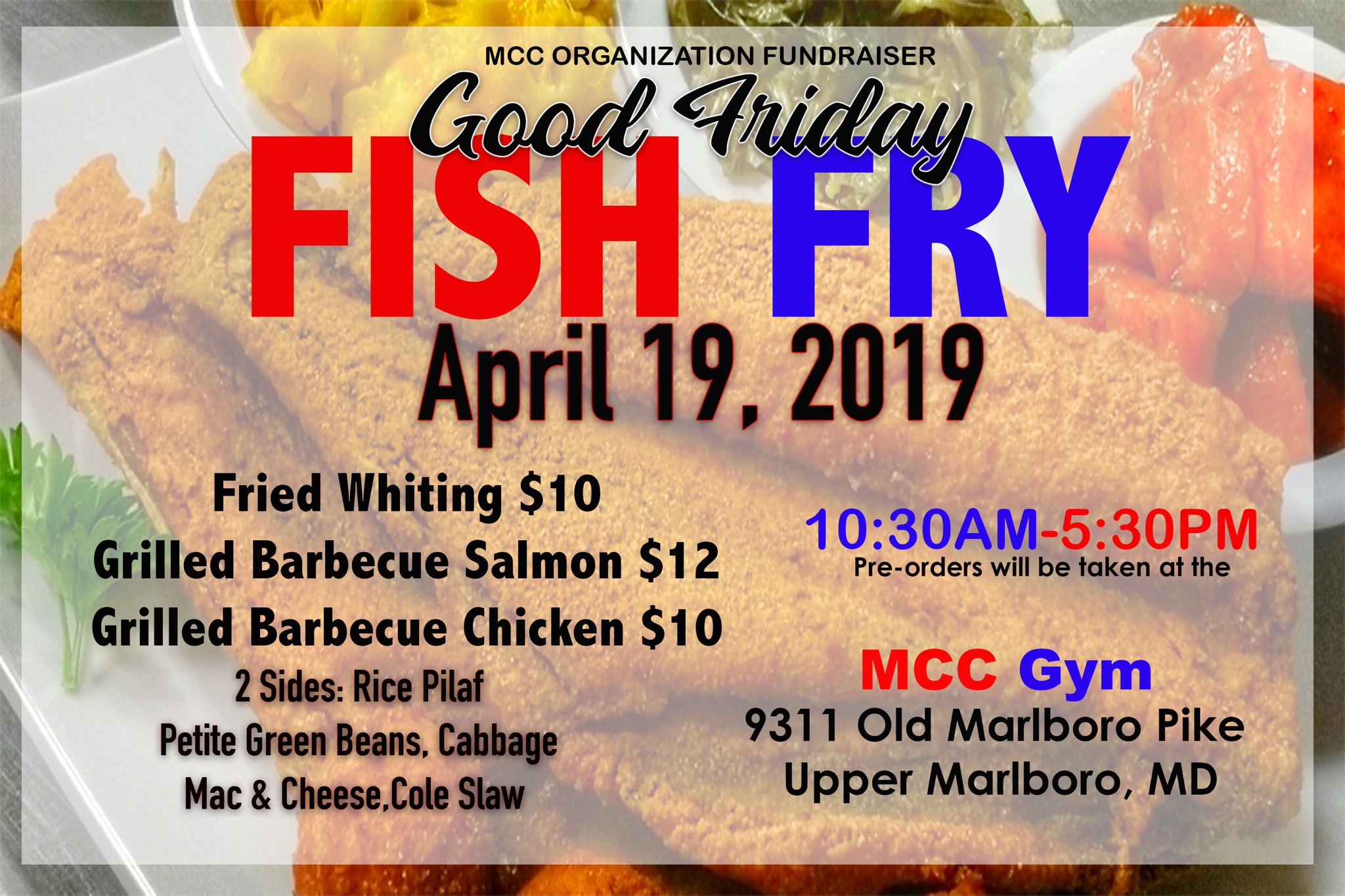 Teams
Team Information
2018-2019 Season
Official season will start June 11, 2018. Participation is contingent on the required $350 deposit per child.
Final team placement will be announced on August 3, 2018 at 5pm.
Competitions
Teams
2019-2020 Season is a limited travel season.
We will have a limited travel and non-travel team.
Non-travel teams will compete within the DC, Maryland, and Virginia area.
MCC will participate in one of the three Nationals: The One, US Finals, and/or Summit.
Donations
MCC All-stars is a non-profit organization. We accept donations to participating cheerleaders and the organization. Please be sure to write the cheerleader's name in the comment box so their accounts can be properly credited.
Payments
Payments
Tuition Portal
FACTS, MCC tuition portal is now live. You can access the portal via our website under Parent Portal page. Every cheerleader must enroll in FACTS. FACTS will accept all major credit cards and ACH payments. All monthly payments will be due the 15th of every month beginning in July. Any changes to payment information, to include in-house cash payments must be done five business days before the 15th. All fundraiser profits as well as any payments previously made will automatically be added to your account after registration. Any amount greater than the required monthly amount will automatically roll over to the next month. For example, if Susie's mom makes a payment of $1,000 and her monthly payment is $250. Susie's mom will not be required to make a monthly payment for the next 4 months.
Click here to enroll in a payment plan
Team Registration
All participants are required to pay a $300 deposit as well as monthly payments throughout the season. Practice Attire and Competition Uniforms are not included in yearly tuition cost. Your Child's team placement will be needed to complete the correct registration.

*Please note the deposit will be withdrawn from your financial institution at completion of registration.
Try-Out Information
Tryout Dates and Times
Try-outs are by appointments only. Please contact us via email marlborocheer@gmail.com or by phone (240)-404-7707.

Cost: $65
Ages
We accept Boys and Girls, ages 4-18 years old.
How to Prepare
No experience necessary, you will be asked to demonstrate tumbling skills, jump skills.
What should I wear?
Athletic shorts and Tshirt's and cheer or running shoes.
What's Next After Try-outs?
Cheerleaders will be given a call-back date and time. Call-backs will take place May 17-19, 2023. During call-backs cheerleaders will be reassessed with other cheerleaders with similar skills.
Summer Team Placement will be announced on May 25, 2023.
After call-backs cheerleaders will receive their summer training team placement via email announcement.
We encourage everyone to attend our Open House to learn about tuition breakdown, fundraising opportunities, and other information.
Open House will be held on May 20,2023 at 12:00pm-2:00pm.
Cheerleaders will be assigned to a summer team based on tumbling skill & technique as well as stunting skill and technique. Summer team training will begin June 19, 2023.
After Summer Training
Final Team Placement will take place in August 2023 at our Summer Kick-off Reveal. Cheerleaders will meet their coaching staff, receive competition and practice schedule.
Spring Break Camp
Camp will be held from 9:00am-4:00pm. Before and after care services are available from 7:30am-9:00am and 4:00pm-6:00pm. The cost is $25 for either before care or after care. The cost for both before and after care is $40. Parents who are not signed up for before or after care will not be able to arrive at the gym prior to 8:45am. Aftercare fee will be assessed for all campers not picked up by 4:15pm. Click the image below to register.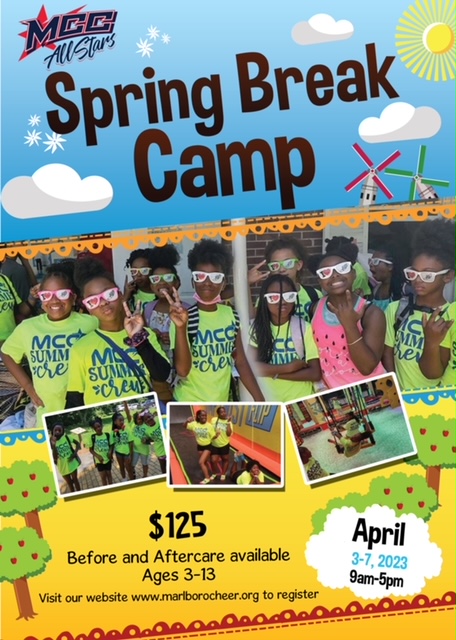 2021-2022 Team Placement
Join us on April 25, 2021 at 10:00am-1:00pm to find out your child's summer placement and hear new enrollment and financial information

On-site enrollment will be offered at a discounted deposit of $150*. Payment must be scheduled thru the portal on 4/25, deposit will be withdrawn 5/15.

*Prices increases to $30 after the April 25, 2021.
Summer Camp (June 19th - September 1st)
Registration
MCC Allstars will only be offering 40 slots per week for our summer camp program. Starting April 4, 2023, parents will be able to pay for summer camp. Weekly Camp registration is $150 per child. We accept children between the ages of 4-13 years old. Summer Camp will start on June 19, 2023, through September 1, 2023. Camp registration must be paid in full by the Wednesday prior to the camp week starting.
Camp Hours
Camp will be held from 9:00am-4:00pm. Before and after care services are available from 7:30am- 9:00am and 4:00pm-6:00pm. The cost is $30 per week for one or $45 per week for both before and after care. Parents who are not signed up for before or after care will not be able to arrive at the gym prior to 8:45am. Aftercare fee will be assessed for all campers not picked up by 4:15pm.
Sample Schedule
Sample Week Theme- Eager Engineers
During Eager Engineer week, campers will explore building, problem solving, measurement and much more, while constructing their own raceable box cars. The week will culminate with an outdoor boxcar race, followed by a trip to the Go Kart Track.
Arrival, table games, free play
As campers arrive they will participate in board games, uno, hula hoops, jump rope, puzzles etc.
Morning Workout (outdoor run/yoga)
Campers will stretch, take a morning jog (weather permitting), and participate in light cardio and strengthening exercises.
Morning snack
Campers will use fruit, granola, pretzels and toothpicks to create their own snack themed car.
Tumbling (2x a week) & Free play (3x)
Tumbling class taught by a certified instructor.
Theme Activities
Campers will perform a themed activity (e.g. Stem project, Science Project)


Example of Weekly Themes:
Week 1: Get Fit!
Week 2: STEMming!
Week 3: Summertime!!
Week 4: Lost in Space
Week 5: Animal Planet
Week 6: Getting Dirty
Week 7: Mission Impossible
Week 8: Music Makes Me Loose Control
Week 9: Getting Craft

Lunch
All campers will be responsible for bringing a bag lunch daily
Free play/dismissal
Campers may also be finishing their project for the week during this time.
Tumbling
1.5 Hour of tumbling will be offered Monday-Thursday (no tumbling on field trip days). Tumbling classes will be used to work on body awareness, technique, and advancing tumbling skills. All campers will be assessed on the first day of class and assigned to the appropriate team.
Lunch
All Campers will be required to bring a bag lunch daily. Refrigeration and microwaves will be available.
Camp T-shirts
All campers will be required to purchase a camp t-shirt for $15. T-shirts will be worn on all field trip days. This is a one-time purchase and can be used for all camp weeks.
Cheer and Dance Try-outs
Try-out Information Coming Soon!!!
Cheer Clinic
Come Join Us for a Free Cheer Clinic!!!
Information

No Cheer Experience Necessary


Attire: White top and black or navy blue shorts.


Age: 3-18 years old


Required Forms: Medical Waiver and Media Release Form


Dates: March 21, 2020 3:30pm-5:30pm and April 4, 2020 at 3:30pm-5:30pm


Location: Main Gym 9311 Old Marlboro Pike, Upper Marlboro, MD 20772


MCC Showcase
Doors open at 12:30pm
$15 in advance (Online ticket sells will close 1/8/23 at 12:00pm)
$20 at the door
Children 4 years old and younger are FREE

Leave your favorite cheerleader a special message before their Showcase Performance!
Worlds Team
Worlds Team Evaluation!!! Athletes must be 14 by 12/31/2005. Evaluation dates are May 21, 2023 at 3:00pm.